The Whole Enchilada® Junior Vols. 1 to 5
The Whole Enchilada® Jr. provides all of the fundamentals you need to start a thriving real estate business!
Vol. 1 – Buying
Vol. 2 – Selling & Holding
Vol. 3 – Negotiations
Vol. 4 – Asset Protection & Estate Planning – Land Trusts
Vol. 5 – Asset Protection & Estate Planning – Personal Property Trusts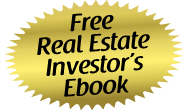 Help Me! I'm not making money like I thought I would with my Real Estate Investment business!
Dear Fellow Real Estate Investor,
If I had a dime for every time I heard someone say, "I can't get anybody to sell me their property" or "I'm losing money on my properties" I would have about 7 tons worth of dimes!
I often ask people what is holding them back from being successful in their Real Estate Investment business. The answers are often similar:
I can't find anybody that wants to sell their house.
My properties are sitting empty.
A deal fell through because of financing.
Those are legitimate reasons for feeling disillusioned with the Real Estate Investing and are valid reasons for giving up on it.
But, in most cases, there is something missing from your business plan. Something more powerful and valuable than real estate…
…I'm talking about knowledge!
Yes, when you have the knowledge and understanding of how Real Estate Investing REALLY works, you can use that to your advantage and convert it into MORE money for your business and most importantly, yourself and your family!
There is only one system that provides you with all the knowledge, coaching, and personal insight to guide you: The Whole Enchilada Junior!
I developed The Whole Enchilada Junior system because I saw that there were so many training programs, books, websites and seminars that taught SOME good information, but most of them were close to worthless when it comes to sharing real-world strategies and ideas that actually WORK!
I've helped hundreds of people turn their Real Estate Investment business into a 24/7 Cash Machine in as little as 6 months! Those who use The Whole Enchilada Junior also discover smart ways to create financial success by implementing the information they learn from me for the rest of their lives.
Are you ready to take a bite out of The Whole Enchilada Junior? If you're reading this, you probably are.
Get started today and learn in-depth about:
Street Smart Buying:
The Ins-and-Outs of how and where to find the best deals.
Street Smart Selling and Holding:
Finance repairs, lease options, and make the most money quickly with the least effort.
Negotiations:
Tactics, strategies, and techniques necessary for success – BOTH in business and personal.
Full Trust Package:
Plain English knowledge on Trusts that are easy to use and understand.
This system is designed to get you headed in the right direction and get back on track with your Real Estate Investment business. With The Whole Enchilada Junior, all your fears and obstacles can be removed, no more excuses. I have done all the work for you, you don't have to re-invent the wheel. I've had the same fears and failures that you might have experienced but I have learned from them. I've been doing this for over 30 years and know how to avoid the pitfalls!
If this doesn't help you to take the step to click on the button below that says, "Let's Get Started!" then I'm just going to assume that you are not ready. I realize this isn't for everyone.
But, if you realize that "you don't know what you don't know" and that this system is unlike any others because it combines useful, informative coursework and done-for-you services, then this is the right decision for you.

Best,

Call 1-800-578-8580 for today's special or fill out this form and we'll get back to you.