The Whole Encilada ® Vols. 1 to 9
The Whole Enchilada® for Increasing and Maintaining Your Wealth includes:
Street Smart Buying
Street Smart Selling and Holding
Negotiations
Full Trust Package
Street Smart Borrowing
Street Smart Business Management
Street Smart Property Management
Street Smart Lease Options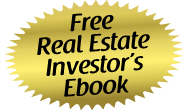 You can build a streamlined, 24/7 cash machine in no time and Double your Real Estate Investment Business in Six Months or less…
I can help you… if you are willing to take action now.

Dear Fellow Real Estate Investor,
If you're frustrated watching personal and business success, money, and all of its benefits fall into the laps of other real estate investors while you tread water or fall further and further behind, this will be the most important letter you will ever read.
Rebecca Blank, US Commerce Department Under Secretary said,
"While we're seeing improvement, the overall housing sector still faces substantial challenges, including the large supply of existing homes on the market…."
Are you one that doesn't know how to overcome these challenges? Do you wish you could take advantage of the supply? Have you tried the Real Estate Investment business but didn't succeed like you hoped?
If you're honest with yourself, how would you rate your real estate investment knowledge? Do you wish you could end the fear, uncertainty, and frustration of not having the tools you need to do what you NEED and WANT to do with your with real estate investment business?
I can show you how to take advantage of the large supply of houses and overcome the challenges that most Real Estate Investors can't. I've been doing this for over 30 years and have found a proven method that works in ANY ECONOMIC CLIMATE. I done all the work for you and put it in my Whole Enchilada system!
The Whole Enchilada is for people know they want a career as a real estate investor, people who see the value long-term of having a real estate investment career, and the results NOW. This system can help you get started or build up your real estate investment business. You can double your real estate investment business in six months or less, regardless of the number of deals you've done!
The path to buying, selling, and holding real estate works because it combines education, personalized strategies, and proven done-for-you services!
I've helped hundreds of people just like you who are making thousands of dollars on each deal. They are buying, selling, and holding in record numbers to create a 24/7 wealth making machine.
Right now, you might be saying to yourself, "That might have worked for THOSE people, but I have bought other programs like this before and had the same promises made. Why are YOU different?" or…
"It's impossible to make money in this market." or…
"It's not the right time to get into real estate investing."
The Whole Enchilada system helps you overcome ANY of those "issues!" Guaranteed.

Are you will to do what it takes? Discover what you need to know? Are you ready to buy, sell, and hold real estate in a way that will leave your competition in the dust?
If you answered yes to the questions above, you're ready!

NEED MORE?
You will also gain an in-depth understanding of:
The "Ins-and-Outs" of how and where to find the best deals, how to finance repair, lease option, sell and make the most money quickly with the least effort.
Techniques, tools, and ideas on how to get started…and keep going in the real estate investment business.
Overcoming your fear of negotiating with others and show you how to negotiate.
Trusts can be easy to understand and use. Avoid probate, protect your assets, and avoid being the target of lawsuits.
Why Trusts are your easiest and best front line of defense.
Financing tactics, strategies, and techniques necessary for success in the Real Estate business.
How to effectively and effectively run your Real Estate Investment Business.
The best way to manage the asset and the people who are paying for it.
The fool proof system to both buy and sell real estate using a high profit, low cash, high leverage technique.
Today is the perfect day to get started with The Whole Enchilada system. Why? NOW is when you can pull ahead of the pack by using strategies and tools in this proven system that will help you create the financial success you know is within your grasp.
Don't wait. How many super successful people do you know who are procrastinators? This is one of the most important gifts you can give yourself – the gift of valuable, useful knowledge.
It's YOUR time now. Let's get started!

Here's to your success!
Lou Brown
The Street Smart Investor

Call 1-800-578-8580 for today's special or fill out this form and we'll get back to you.