Mastering Business Advancement™ (MBA)
Dear Street Smart Client,
In todays market its survival of the fittest that will allow success. You will witness many folks go out of business during this cycle. You better be prepared or you won't make it either.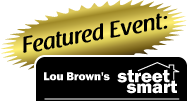 In 2007 I taught my first "Mastering Business Advancement" course. So what? Well the proof is in the success. All the folks who attended are still in business. Most have grown their real estate businesses dramatically.
Being "in the black" requires many steps and advance planning. It's funny how many long-term successful real estate businesses can be traced back to an original plan and tweaking it along the way.
Friends, now is the time for you to tweak your plan. It's time to work on your real estate business not in your real estate business. Its time to discover what is missing from your business and take action to implement those things.
Let's face it – without taking the time to focus attention on your business nothing will happen. You'll flip-flop around and do what is right before your face… just like you have been doing.
The truth is profit comes in many forms. Income is only part of the story. Tax savings, added profit per deal, staff cost savings through team building, and so much more make up the right plan. Planning for them is the key.
This is what you need for your real estate business. I only teach this once per year and this is it. It will be another year before you can benefit from this growth experience if we don't do it now.
Isn't now the time to hunker down and design a business you can live into? It's the little things that matter and that is exactly what we will focus on at MBA.
We'll start with you. First you'll go online and take a test. It's a personality test. It is designed to determine exactly who you are. Then at the event we will determine who you are not and the personalities you need to help you get where you want to be.
After we figure out who you are not then we will go to the next step. Who do you need and how can you hire them? Where and how do you advertise? What do you say? How do you interview them? What do you pay? At MBA we'll start there. What do you want? We'll come up with what that costs then design a plan to get there. No more nonsense! You need to get down to the brass tacks. Let's find out what you want and what you need to do to get it.
Once we get that number now we need to create the capitalization to get there. How much do you need? And where are you going to get it? You'll learn how to capitalize your real estate investment business to get where you want. We'll even meet up close and personal with a banker who will tell us exactly how to approach the bank to get the money. What you need to say and what you need to show… and what you should not say or show!
Now we need to find out what your challenges are. What do you find what is not working? What do you find challenging? Next it's time to design the plan. At MJS we learned how to build an initial plan. Now it's time to get down to business.
If you really want a business that lasts we will discuss how to create a real business plan. Maybe you've had a basic one but to build a multi-million dollar real estate investment business, you need more. We'll do this together at MBA.
Now it's time to build in the extra pieces of the plan. What are the tax benefits you should be going for? How can you put yourself in a position to win? How should you account for this?
Not only will we work together on this but we will also learn the paperwork you need to get this done.
This is just a sample of what you will learn. We'll cover how to set up your office. What is the paperwork? What is important and what isn't? When you graduate MBA you'll know what to do, when and how to do it.
Hey, this is not being advertised everywhere and I only offer this real estate investment training event once a year. It is only open to Street Smart® clients. We had to create this real estate investor training because we found all of this was a huge missing for most of our licensees.
Spend three days with me and let's transform your business into the multi-million dollar money maker it can be. We've added some new elements I think you'll like as well. I have a specialist coming in to teach you how to hire a local, virtual assistant who will be responsible for all the things you aren't good at. You'll know how to hire them and how much to pay.
I'm also adding real estate investor training on wholesaling deals to quickly generate extra money for your business. I'll also show you how you can get the financing for one day closing since simultaneous closings are a thing of the past.
That's right. Well also talk about the automation of your business and how to have staff 24/7/365 to totally grow your business to the next level.
We'll also do some forms training as there is a lot of the Whole Enchilada you are not aware exists or what to do with it if you did.
That's just a few of the new additions I've made for you. I'm going to keep the rest to myself as I don't want my competition to know. But let's just say I will reveal things at this real estate training I never talk about at any other event.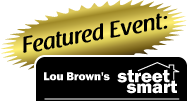 That's right. You need new strategies for a new market. Let's plan to have a transformation from where you are to where you are headed. What will your business look like one year from now?
Where else can you get this real estate investor training? Nowhere. Why? Because this is designed to fit around your Street Smart real estate business. You'll be shocked just how simply and easily you can transform your business.
Let me ask you… if you decide not to come, will you regret it? What could your business look like? Will you know if you don't come? Will you miss thousands of extra dollars you could have had?
You'll even leave with the special magic auto fill disk with all the business forms you'll need to make this work right away for you.
Make the decision now to join me for this life-changing, business-changing real estate investment training. You'll be glad you did. And of course it is fully guaranteed.
Your homework will begin prior to the event so you'll come ready to have the transformation happen.
And don't forget you'll be sitting right next to others who are building a business just like you are. You can pick each other's brains during the networking we have planned for you.
Where Will Your Business Be One Year from Now? Come join me… and everyone else at this event and let's design it together. I'll see you there!
To Your Profits!
P.S. Don't forget the bonuses we are giving you.
An online personality test to figure out who you are missing in your organization. Yes you can include your Spouse or staff as well.
Special software. Auto-fill CD-ROM including all the forms we will cover in class.
Advance homework and lessons.