The next step is to determine what you want to accomplish. Ask yourself, "Why am I investing in real estate?"
Do you want additional income for your family? Do you want a nicer home? Better cars? Education for your kids? Retirement? (You better put that last one on your list if you didn't already.) Make a list of what you want. Find out what those things cost. Add it up. That's the size business you need to build. Some people will just need a few houses to reach their goals. Others will need dozens, even hundreds to reach theirs. Either is fine. That's what I'm here for.
Here's a formula that can help: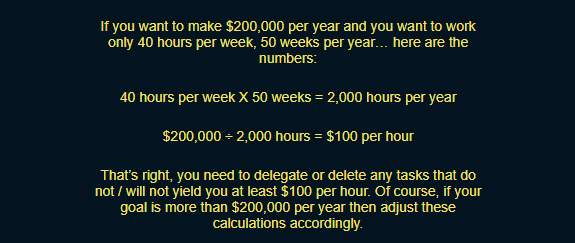 You need to value your time and make sure that everything you are doing for your business is productive. Realize that if you are cleaning toilets or painting walls, does that really use your time wisely?
Time is money and your time needs to be spent in front of sellers, creating and crafting deals, solving their problems, not doing all the minutiae that you can hire others to do. You need to be working ON your business, not IN your business.
Are you ready to get started and build for your future?. You've already taken the first step. Now you just need to follow the paved road.
Be sure to check out my next article in which I show you how to get the funding to invest.
Here's to your success!