Volume 1: Buying
How to Make Real Money in Real Estate
Overview
Discover how and where to find the best deals, buy property with the least effort, and how to quickly make the most money on your real estate purchases. This extensive training on the "Ins-and-Outs" of buying real estate will provide you with the techniques, tools, resources, and ideas on how to get started... and keep going in the real estate investment business.
Benefits
Learn which properties to buy and which to avoid
Negotiate the best deals with the least effort
Identify niche opportunities and maximize your profits
Ready made forms and documents
Proven techniques to make more money, faster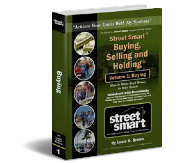 Includes:
192 Page Guidebook
12 Audio CDs or your choice of media
Complete Forms disc
"No one else has this information or these skills, technique, this training really sets you high above the rest!"
Shemiah Schene, FL
Call
1-800-578-8580
for today's special or fill out this form and we'll get back to you.

Volume 1 - Buying
If you've already purchased This you can login here to access your digital downloads.