Volume 10: Owner Financing
Making Money Using the Owner Financing Technique
Overview
Discover how to leverage Owner Financing to close more deals and maximize your profits. This course includes a complete system of forms, tools and information specifically designed for Buying and Selling Real Estate using the "Agree- ment for Deed" technique that creates a fool proof system to both buy and sell real estate without giving the buyer a deed while giving all of the tax advantages of ownership.
Benefits
Learn how to buy and sell without traditional financing
Avoid the cost and delay of foreclosure
Save points and closing costs
No need for credit or bank delays
Increase your profit margins on every deal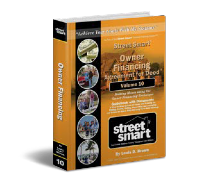 Includes:
142 Guidebook
4 Audio CDs or your choice of media
Complete Forms disc
"The amount of learning is enormous. The emphasis on teaching you to become wealthy doing real estate is a huge shift from other seminars."
Cynthia Walker, CA
Call 1-800-578-8580 for today's special or fill out this form and we'll get back to you.

Volume 10 – Owner Financing
If you've already purchased This you can login here to access your digital downloads.