Volume 3: Negotiations
How to Get What You Want in Life, Now!
Overview
Negotiating is one of the most valuable areas of investing and one of the most overlooked. Not anymore! Get the step- by-step, nuts and bolts secrets of NEGOTIATION so that you will never ever have to pay retail for anything ever again. This extensive training teaches you how to get the most money out of every deal.
Benefits
Learn how to recognize and react to different personalities
Negotiate the best deals with the least effort
Identify areas you can negotiate to maximize your profits
Sign more deals and get what you want in the first offer
Proven techniques to make more money, faster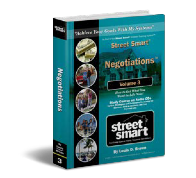 Includes:
Complete Guidebook
5 Audio CDs or your choice of media
Transcripts of the CDs
"I wish I had done Lou's system first and only. This system is the most comprehensive one I have seen. Thank you!"
Casey Day, FL
Call 1-800-578-8580 for today's special or fill out this form and we'll get back to you.

Volume 3 – Negotiations
If you've already purchased This you can login here to access your digital downloads.