Volume 5: Personal Property Trusts
What Are They and How to Use Them
Overview
Taught in plain English, this course shows you to how protect your personal non-real estate assets including; cars, boats, jewelry, stocks, bank accounts, art collections, heirlooms and more from personal and professional liability. Protecting yourself with a personal property trust is one of the most important things you'll do and is your easiest and least expensive front line of defense.
Benefits
Learn how to protect your personal income and assets
Ensure your property is protected
Reduce and eliminate personal liability
Ready made forms and documents
Get peace of mind regarding your estate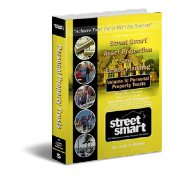 Includes:
154 Page Guidebook
8 Audio CDs or your choice of media
Complete Forms disc
"This is a focused effort towards my business. It has helped me beyond what I thought it would."
Tom Stout, CA
Call 1-800-578-8580 for today's special or fill out this form and we'll get back to you.

Volume 5 – Trusts – Personal Property
If you've already purchased This you can login here to access your digital downloads.