Volume 6: Borrowing
How to Make the Money Game Work for You
Overview
Street Smart Borrowing gives you the financing tactics, strat- egies and techniques necessary for success in the real estate business. This training reveals the ins-and-outs of how and why to use various strategies to supercharge your income from your real estate investments, costing you less on every deal you make, therefore increasing your profits on every deal!
Benefits
Borrow money privately
Borrow at the lowest cost
Compare various options
Increase your profit margins on every deal
All the forms you need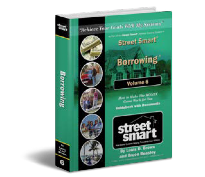 Includes:
174 Page Guidebook
6 Audio CDs or your choice of media
Complete Forms disc
"Since joining Lou's training we buy an average of 1 to 2 properties per mo. We have followed Lou's program to the letter and now have 26 properties."
Cynthia Shriver, IL
Call 1-800-578-8580 for today's special or fill out this form and we'll get back to you.

Volume 6 – Borrowing
If you've already purchased This you can login here to access your digital downloads.