Volume 8: Property Management
How to Manage Property Right and Create Cash Flow
Overview
Get the secrets to managing your property and tenants. This detailed course gives you the system and resources you need to manage both your assets and the people who are paying for them. Learn how to control your property, find quality tenants, and maximize your property's profits. This system includes ev- erything you need to simply, effectively, and profitably manage your rental real estate, hassle free.
Benefits
Get best practice approaches to property management
Maximize your rental property's cash flow
Develop and improve renter relations
Increase your profit margins on every deal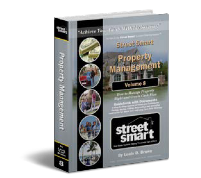 Includes:
200 Page Guidebook
6 Audio CDs or your choice of media
Complete Forms disc
"Since joining we have purchased 20 properties. We have moved our busi- ness to the next level since getting involved"
Wayne Clanton & Wendell Long, NC
Call 1-800-578-8580 for today's special or fill out this form and we'll get back to you.

Volume 8 – Property Management
If you've already purchased This you can login here to access your digital downloads.