Do you believe that there are select individuals in the real estate business who possess special knowledge that is unknown to others?
The knowledge that gives them an edge over others in their real estate investing? An edge that enables them to find deals, do transactions and earn profits others only dream about. You may never have considered it, but every insider starts on the outside. The lucky ones find a mentor who reveals his or her special knowledge and that changes EVERYTHING.
In this short video, you'll have the chance to hear from just such an "insider," as an investor and real estate mentor Lou Brown is joined by one of his top real estate devotees, Eric Cooper.
Need to know the answer to this question? Watch this short video and learn from Lou different strategies on becoming a successful Street Smart Real Estate Investor.
For more valuable information click on this link and watch the complete episode: https://youtu.be/7RMr-ELzw2M – "Invest Like An Insider | Street Smart Investor "
If you are JUST getting started in real estate investing, you NEED to attend my ONE-DAY virtual training. I teach it LIVE over ZOOM, and it's only $1 (yes, one dollar) for SIX HOURS of solid how-to training! https://www.wealthbuilderworkshop.online
If you're ready for a more in-depth experience, then you owe it to yourself to investigate my THREE- DAY Millionaire Jumpstart Event. I host it four times a year in various locations, and you can attend LIVE and in person. I'm your coach all three days. Find out more at https://millionairejumpstart.com/
You'll discover how to start investing in real estate (or do it easier and more profitably) at either Wealth Builder Workshop or Millionaire Jumpstart.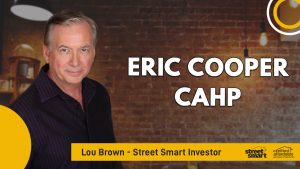 Here is an overview of my proven and practical approach to investing in real estate.
* Money Making Secret #1: Getting Motivated Sellers to Call You! No more calling unmotivated sellers and getting rejected more times than a geek for the high school prom!
I'll show you how for over 28 years, I've been able to get deals brought to me and motivated sellers hunting me down to give me their house.
* Money Making Secret #2: The Art of Structuring Deals! I've been doing this for 40 years and I love to share how I get sellers to give me the house, a check, and even a jet ski or two.
* Money Making Secret #3: Negotiating Secrets Revealed! I love to negotiate, just ask Matt, one of my hand-picked coaches. We recently went to an estate sale and he witnessed me structuring a deal to buy the house and contents right there on the spot.
* Money Making Secret #4: Trusts Simplified! A little confused on this entire Trust thing? Why to do it? How to do "Subject-To" safely? I'm going to show you my new fundamentals of Trusts training that will simplify the concept of Trusts, so a 9-year-old child can understand it.
* Money Making Secret #5: Develop a Plan for Success in Real Estate. The wealthiest man ever to walk the earth left clues for us on how he amassed his great wealth and kept it.
How to Help People While Helping Yourself – Become a Certified Affordable Housing Provider™
Create Your 10 Million Dollar Retirement Plan – specific formula revealed
Learn Hidden Profits Available in ANY Deal – worth thousand$
How to Take Over the Seller's Loan with NO Money
How to Have the Seller PAY YOU to Buy Their Home – no kidding!
Buying Without Bank Loans – over forty years and never one bank loan!!
Easy Ways to LEGALLY Raise Big Money for Your Deals
Renovations – Quick Ways to Safely Make Huge Cash Now
Money-Making Management Secrets from a 40 year veteran who manages over 150 now
Accelerating Your Cash Flow – Add built-in "Profit Centers" – extra hundred$ per month
Case Studies: Secrets of How They Were Found, Negotiated and Sold
How to Protect Your Deal from Someone Else Stealing it
Legally Pay ZERO Taxes on Your Real Estate Portfolio – simple structure worth thousands
Having Tenants Leave Your Property in Better Condition than When You Gave It to Them
Why Land and Personal Property Trusts are the Best Privacy and Asset Protection
Benefits of Trusts You Cannot Get With ANY Other Entity
The Due-on-Sale Clause – What it is and How to Avoid it Legally And MUCH More
Need help deciding which power-packed "one-of-a-kind" training on making money in real estate investing is best for you! 
Call 1-800-578-8580 or visit us online at https://www.streetsmartinvestor.com
Listen to our Podcast:
https://streetsmart.mypodcastworld.com/11222/eric-cooper-cahp-street-smart-investor
---
Lou Brown:
We've got some really great people all over the country. And one of them has agreed to join us today. Eric Cooper, are you there? Eric and Lily are a couple from Houston, Texas. And in fact, Eric, tell them a little bit about yourself.
Eric Cooper:
My name's Eric Cooper. I grew up in Texas. Worked in the energy industry for a long time and my wife as well. I met her in the energy industry. We share the same office building similar to one like I'm in today. And so basically we've been working in the corporate world for awhile and then it's got its ups and downs, nothing's guaranteed these days. And so we're looking for our plan B or our active retirement, what we'd like to do. And so we're very blessed to run into Lou and came into Lou's world a little bit over a year ago. And so it's dramatically changed our lives and we feel forever thankful and blessed for meeting Lou and his whole team.
Lou Brown:
So Eric, this is a great opportunity to inspire a lot of people because you still have a full-time plus job, right?
Eric Cooper:
That is correct. I'm basically on break I'm in the office building now. And so I've got a full-time job. It's very demanding.
Lou Brown:
What do you do there?
Eric Cooper:
I do project development. So right now we're in a $500 million piece of class, a real estate. And so my job is to bring in new projects and development growth to contribute to the bottom line. So the IRS everything you see on the corporate accounting statements, investor statements, I have a direct contribution towards.
Lou Brown:
And Eric, you kinda realized that when you're in somebody else's world, helping them to become millionaires and billionaires that might not have a future for you, right?
Eric Cooper:
Yes, that's true. And we all have this perception that when I was growing up, our parents told us, "Hey, if you go to work for a company, take care of the company and they'll take care of you." And that may have been true 30 or 40 years ago, but about the time I was going through it, they were telling us, "Hey, be prepared to change jobs every three to five years. Cause nothing's guaranteed." And that was a shock. I thought, "What? I didn't expect that at all." But whenever I was reading contract language and learned about at-will employment, the two-week notice is a perception that the legal language reads at-will employment. They can terminate for any reason or no reason at all at any time.
Lou Brown:
And you go, "Wait a minute, what kind of guarantees come with this program?" And they said, "None."
Eric Cooper:
Exactly, none. And so I'm just looking at finance people in our attire counting on social security to make ends meet, fixed income as they got older. I thought there's got to be a better way. And so I was looking for that better way. Not met you.
Lou Brown:
It's so exciting to help you build the amazing business that you and Lily are building there in Houston, Texas and tell us about what your business looks like today versus what it looked like when you first got started with us a little over a year ago.
Eric Cooper:
Okay. Well, basically almost Certified Affordable Housing Provider. I still have my full-time job. The business runs 24 hours a day, seven days a week. A lot of people will say, "How can you do that?" Well, I said, "The business runs 24/7. I didn't say I run. Or my wife runs 24/7." So we do our part as time permits during the day nights, weekends, and we plug into it, but it's very much in system. So Sunday I take off with very few, low key activities on Sunday and basically make sure we have that family day and time to recharge. And so that's basically the structure of our business and how it runs. But some of the amazing things we've been able to do is grow this business a little bit over a year. We're currently a better business bureau, a plus gold star rated, five-star rated may I add. And we're heavily networked into the community and it's just a great feeling to be able to help folks all different walks of life. So there's some of the examples of the people we've helped. We've helped veterans CFOs, housewives, retirees, young couples, single moms, grandparents, pastors, nurses, construction, foreman, teachers, small business owners, and tired landlords.
Lou Brown:
Wow. That's amazing. You're changing a whole lot of different people's lives. That's a good thing. So you've been able to embrace the concept of doing good while doing well. You've embraced the concept of the Path to Home Ownership, where you're helping deserving families just like you were describing to end up with home ownership. Tell us one of your stories.
Eric Cooper:
Gosh, there's so many, it's really hard to single one out, but I'll look at one example helping deserving families out, helping people out we're actually helped the seller out. He was a retired veteran, served in the military about 30 years. His house was requiring get up on ladders and elevation and do all these things and he was really just tired of it. He didn't want to do that, but we stepped in, we helped him out. He was very happy with the arrangement we had and we were basically able to take over that house. And so we took that house, turn it around and ended up helping a deserving family, actually three generations, cause it had their grandparents, their parents, and the children wanted to home, a good school district, and by the time we were done, it was completely renovated. And so they were pleased. So we're able to help two families really in that one property.
Lou Brown:
Wow. Wow. So what did the numbers look like on that deal? What was your purchase price and what were you able to sell it for?
Eric Cooper:
The numbers on that were pretty good, you know purchase price was 110,000. We went in there and we did some light rehab and the sell price on that was 170,000. And so both the buyer and the seller were happy and of course we were happy as well. So it was a win-win for all.
Lou Brown:
So you found a diamond in the rough, you found something that needed work. You were able to come in and put that equity into the property by investing in doing the things that needed to be done and the family loved it and they didn't mind the price at all because they could afford it.
Eric Cooper:
Oh, that's correct. And you talk about doing good while doing well and kind of caveat to that is we had a brand new water heater in, there was only two months old. The family moved in said, "Hey, we're having problems with hot water heater," transaction was done. We're everything was done. So at that point you had a choice you could walk away and say, "Well, it's not my problem." Well, we've been done with that house for a while. Right. But just thinking about doing the right thing and doing good and doing well we went back and we looked at it, I tried to troubleshoot it didn't work called the plumber. And he said, "There's something faulty in the control valve." So we actually swapped it out, gave them a brand new water reviewed a week or two after closing, just because it was the right thing to do.
Lou Brown:
Wow. That's beautiful, man. And so what's the cashflow on that look like how much are they paying you on a monthly basis?
Eric Cooper (12:30):
That was one that you had talked about in the example about the market being so hot. And so we had that in our inventory. We just went ahead and liquidated that asset. But we were able to pick up another asset around, around the corner. And so those numbers are really good on it actually, because of the numbers on that other property, we're able to help out to families. One family, it got impacted during the one of our great hurricanes and Texas, Louisiana, Gulf coast. So we help that family out. We're able to help out a single mom. She's a mother of five and so she moved into that and not that long ago, but the cashflow on that is really good. It's got a positive cashflow, little over $800 a month and $100 a month.
Lou Brown:
That's beautiful thing. So you're taking advantage of the profit centers that we've got built into the program. I know there's 25 profit centers, so it's rare for somebody to be able to embrace all of those at one time. But you're implementing those as well?
Eric Cooper:
Oh yes, definitely. You know, our involvement with ACN. So we're able to help people save money on essential services as well. And those are some great profits centers and we have the credit restoration, all of our members are actively involved in that we're helping them really kind of pump up their credit scores and get them much hired, open up the world of good credit to them. And so there's so many, it's just amazing.
Lou Brown:
Wow. Well, Eric, you are a true inspiration. It's amazing what you've been able to do since you joined us. How many houses have you done in a little over a year of being with us?
Eric Cooper:
Oh, I looked up and it's a total of, I think, 14. Some of them we've liquidated and otherwise we have an inventory now and so it's just nonstop.
Lou Brown:
That's a beautiful businessman. So you're going to get to that place where one of these days they're going to say, "Hey, Eric, it's been fun and we just don't need you here anymore." Hopefully you're to get there first where you get to say, "It's been fun but all this time I'm given your company, I could actually be giving to my own company." And so that's a goal that I have for you and a vision and agreeing that I have for you in being able to change your and Lily's life and your family, and come into a whole new place of being where you've got your own business, your own time. But it's just amazing what you've been able to accomplish in this short period of time. So congratulations with that. Congratulations with the cashflow and all the things that are happening in your world. And thank you for being a Certified Affordable Housing Provider.
Eric Cooper:
Oh, thank you, Lou. We think it's such a blessing you came into our lives, so thank you for all that you do and not only helping touch our lives but so many other people's lives as well.
Lou Brown:
Well, thank you, man. You're, you're amazing. And keep up the great work.
Eric Cooper:
All right. Will do. Thanks Lou.