Lou believes that the key to the success of your real estate business depends upon what you are doing with your marketing strategy.
What do you do to get the people's attention?
Your business does not occur naturally you must take action to make it happen.
Need to learn more? Watch this short video and learn from Lou different strategies on becoming a successful Street Smart Real Estate Investor.
For more valuable information click on this link and watch the complete episode: https://youtu.be/7RMr-ELzw2M – "Invest Like An Insider | Street Smart Investor "
If you are JUST getting started in real estate investing, you NEED to attend my ONE-DAY virtual training. I teach it LIVE over ZOOM, and it's only $1 (yes, one dollar) for SIX HOURS of solid how-to training! https://www.wealthbuilderworkshop.online
If you're ready for a more in-depth experience, then you owe it to yourself to investigate my THREE- DAY Millionaire Jumpstart Event. I host it four times a year in various locations, and you can attend LIVE and in person. I'm your coach all three days. Find out more at https://millionairejumpstart.com/
You'll discover how to start investing in real estate (or do it easier and more profitably) at either Wealth Builder Workshop or Millionaire Jumpstart.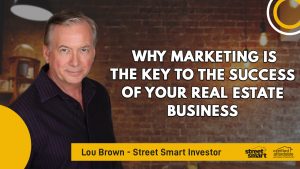 Here is an overview of my proven and practical approach to investing in real estate.
* Money Making Secret #1: Getting Motivated Sellers to Call You! No more calling unmotivated sellers and getting rejected more times than a geek for the high school prom!
I'll show you how for over 28 years, I've been able to get deals brought to me and motivated sellers hunting me down to give me their house.
* Money Making Secret #2: The Art of Structuring Deals! I've been doing this for 40 years and I love to share how I get sellers to give me the house, a check, and even a jet ski or two.
* Money Making Secret #3: Negotiating Secrets Revealed! I love to negotiate, just ask Matt, one of my hand-picked coaches. We recently went to an estate sale and he witnessed me structuring a deal to buy the house and contents right there on the spot.
* Money Making Secret #4: Trusts Simplified! A little confused on this entire Trust thing? Why to do it? How to do "Subject-To" safely? I'm going to show you my new fundamentals of Trusts training that will simplify the concept of Trusts, so a 9-year-old child can understand it.
* Money Making Secret #5: Develop a Plan for Success in Real Estate. The wealthiest man ever to walk the earth left clues for us on how he amassed his great wealth and kept it.
How to Help People While Helping Yourself – Become a Certified Affordable Housing Provider™
Create Your 10 Million Dollar Retirement Plan – specific formula revealed
Learn Hidden Profits Available in ANY Deal – worth thousand$
How to Take Over the Seller's Loan with NO Money
How to Have the Seller PAY YOU to Buy Their Home – no kidding!
Buying Without Bank Loans – over forty years and never one bank loan!!
Easy Ways to LEGALLY Raise Big Money for Your Deals
Renovations – Quick Ways to Safely Make Huge Cash Now
Money-Making Management Secrets from a 40 year veteran who manages over 150 now
Accelerating Your Cash Flow – Add built-in "Profit Centers" – extra hundred$ per month
Case Studies: Secrets of How They Were Found, Negotiated and Sold
How to Protect Your Deal from Someone Else Stealing it
Legally Pay ZERO Taxes on Your Real Estate Portfolio – simple structure worth thousands
Having Tenants Leave Your Property in Better Condition than When You Gave It to Them
Why Land and Personal Property Trusts are the Best Privacy and Asset Protection
Benefits of Trusts You Cannot Get With ANY Other Entity
The Due-on-Sale Clause – What it is and How to Avoid it Legally And MUCH More
Need help deciding which power-packed "one-of-a-kind" training on making money in real estate investing is best for you! 
Call 1-800-578-8580 or visit us online at https://www.streetsmartinvestor.com
Listen to our Podcast:
https://streetsmart.mypodcastworld.com/11223/why-marketing-is-the-key-to-the-success-of-your-real-estate-business-street-smart-investor
---
Scott Paton:
Is there anything new happening in your world? Have you started at a new homes?
Lou Brown:
One of the things that we are seeing right now is just the craziness of the market, but I always like to encourage people about their marketing. What are you doing in your marketing to get people's attention? And one of my licensees actually sent this to me. She says we did it again. We have another great opportunity and you could even get involved in it. And she says, funny story about this deal. I was one I was wasn't even looking for, but couldn't pass up. I was driving to another job site and noticed a man following me and thought, "Oh, that's funny." He must be going to some place nearby, 10 minutes went by. And he was still following me. This is the part where I got concerned. I got a little worried. She says, "Am I in danger?" She says once I got there, "I'm going to step out of the car."
I turn and see he's running towards me. I was just about to yell for help. And then he said, "Hey, I saw your son on your car and I have a property I'm trying to get rid of turns out that he has a diamond in the rough in Boulder Creek and I just couldn't pass it up." So that is a great example. You know, a lot of our licensees have rapped their vehicles, right? And it says we buy houses and its a Certified Affordable Housing Provider. And it says Path to Home Ownership. And it's got all the good marketing that we've created on there. And so as a result, sometimes people see that and go, "Yeah, baby." I want to talk to you about a property I've got right now. And plus it provides a tremendous amount of credibility. When you go visit with a seller, when you go visit with a lender, when you go visit with city council county commission, the mayor's office housing code, they see that you're serious about your business.
So I encourage you to look into our WrapWiz, where you can actually wrap your vehicle and be like Lori, get somebody chasing you down to give you a deal. Now, by the way, Lori is going to make over a hundred thousand dollars on that one deal, because it needs a lot of work and updating and what have you. So the market would not be attracted to it, a traditional buyer, but Lori knows what to do to take that property and convert it and make it absolutely incredibly beautiful. And boom she's going to get top dollar for that property. If one of her Path to Home Ownership buyers, don't take it. The market will take it because it's such a hot market right now. She's in California. So just some great stuff going on out there in the world.
And I thought, I'd make that my tip of the day, just to have people say, "Hey, are you really doing all you can do to market your business? Are you really getting yourself out there in the world and exposing your business? Are you telling people who you are? What you do and what you can do to help them?" Well, when you do that, you're going to have some great help. So that's one of the things also that we're going to be talking about at MPI. Massive Passive Income is we're going to be talking about marketing to attract an incredible number of buyers like Eric was sharing with you. You know, just a great number of folks out there that have good enough credit, good enough down payment can qualify for property. And then there's a whole bunch about 70 to 80% that cannot qualify for traditional loans and traditional lending. And that's also a market that we serve, where we give deserving families an opportunity to end up with home ownership through our Path to Home Ownership Program. So that's another way that you are bringing value and service to your community.